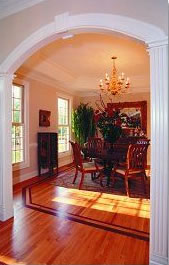 "As veterans of the home-building process, we wanted a builder who would translate our vision into a solid, beautiful, functional, and energy-efficient custom home at a fair price. We met with Cameron and toured several of his homes - under construction and completed – and were very favorably impressed by the workmanship, features, and custom details. Working with our architectural plans and input from our designer, Cameron provided a detailed and reasonable bid and contract tailored to our needs and allowances.
In addition to the stunning visual beauty of the house, we were very impressed with the solid construction as compared to the other homes we've built. By combining reinforced framing with modern energy-saving materials and building methods, we have a house that is energy efficient, and extremely quiet, in addition to being durable and low-maintenance.
The subcontractors who handled our cabinetry, flooring, counter-tops, tile, brick, masonry, plumbing, electrical, trim, drywall, and painting all shared Cameron's commitment to quality and value, and exceeded our expectations for workmanship and value. We were delighted – but not surprised – that our home won the "Diamond Award" in the 2010 Brunswick County Parade of Homes, with special mention for the interior trim, which is a hallmark of Cameron's custom homes.
Every detail, including transitions between crown molding, flooring, fit and finish, reflects resourceful problem-solving and an unwavering commitment to excellence. As a result, our "punch list" of items requiring attention after construction was quite brief, and all punch list items were resolved promptly and without the need for follow-up.
Cameron is a true custom home builder who unites classic tradition, modern technology, and quality construction that ensures craftsmanship and value."
-Barbara & George Lemos / St. James
---
"To begin the task we interviewed five excellent builders before choosing C.L. Smith Construction. We were looking for a builder who was honest and professional, creative and skillful. Our chosen builder had to be able to complete our project by long distance with us being 750 miles away in Connecticut.
Cameron interviewed us and went through every aspect of what we wanted in our home. His attention to detail was outstanding and listening skills were superior. The design and plans created by Cameron were exactly what we had discussed, and few changes were made to the original plans. All of Cameron homes incorporate "Green Building" certification which was important to us.
Background check of CL Smith Construction with his bank assured us that he was financially sound and conducts his business practices professionally. Cameron works with established quality suppliers and contractors. Cameron has the respect of everyone we contacted.
Cameron returned our phone calls and kept us informed with e-mail and digital photos. Our home building experience was made easy without worries because of Cam's guidance. Cam made us feel confident from the beginning to completion that his goal was to build our dream home.
There are many builders from which to choose. We highly recommend C.L. Smith Construction to anyone planning to build a custom home. Please do yourself a favor and talk with Cameron about your plans. You will immediately feel comfortable with Cameron's low key demeanor and professional approach to building an energy efficient home. Thank You! We love our C.L. Smith Construction home."
-Claudia and Dennis Banks / 3254 Moss Hammock Wynd
---
"We just wanted to let you know how happy we are with our house. We have built seven other houses, so we have a good bit of experience with the building process and construction. We are very happy with our experience with you as our builder. Our house is extremely well built. Also during our building process you gave us quite a few suggestions that turned out to be very advantageous to us and the appearance of our home. As you know, we have recommended you to others who have used you as their contractor. They have also been very happy with you as their builder. Good luck in the future, and if you ever need us for a recommendation or any other assistance, please let us know. "
-Greg and Teesie McClure / St. James
---
"Merry and I would like to tell you how happy we are with our new home. Our experience building long distance was very positive and would recommend you to anyone building from afar. Everything has turned out perfectly and we are enjoying our home very much."
-Peter & Merry / St. James
---
"At first, we were a little skeptical about building a home while living out of town. What a pleasant surprise! We were amazed at how smoothly and quickly the building process went. Cameron did a great job of communicating and helping us make decisions. We couldn't have asked for a better building experience."
- Jim & Linda Fuller / Winding River Plantation
---
"When we decided to build, we looked for a builder who would listen to our needs, pay attention to detail, and be accessible and easy to work with. Thankfully, Cameron fit the bill, and we love the results. His sub-contractors are true artisans and gave us ideas which enhanced and beautified our home. We were lucky to have found Cameron and consider him our friend as well as our builder."
- Carol & Ephraim Botnick / Winding River Plantation
---
"We interviewed five other builders before choosing Cameron Smith to build our home. It was important to us that our builder be a part of the design process. Cameron was a wonderful asset to us through the design and construction phases. During our building phase, Cameron and his staff where very professional, attentive to detail, readily available and have excellent people skills. We couldn't be happier with our choice of C. L. Smith Construction, Inc."
- John & Diane MacQuarrie / Winding River Plantation
---
"C. L. Smith Construction was the right choice to build our home. Quality workmanship and attention to detail resulted in a home that we love. We proudly show it off to friends and guests. The sub-contractors were true artisans and professional in every way. Cam stands by his work and any call backs were promptly addressed. It was truly a wonderful experience and now we have a friend in Cam! We would do it again with C.L. Smith Construction".
-Loretta and Howard Acheson / Winding River Plantation
---
"When considering builders, we were told that C.L. Smith Construction developed the highest quality homes. The house they built confirmed that assessment. Cameron and his foreman were a pleasure to work with and they provided excellent ideas for design considerations that were not included in the house plans we gave them, including redesigning the master bathroom, built-in shelves and cabinets in the living room and molding options throughout the house. We highly recommend C.L. Smith to anyone who is considering building. "
-Bob and Roberta Fuchs / Winding River Plantation
---
After interviewing several builders we chose Cam Smith based on his reputation in the Winding River Community and his "no-push" style of salesmanship. We were not disappointed. He used professional subs and added several excellent and very helpful recommendations throughout the building process. Very important to us was the price he quoted was the price we received; no surprises. We built in 2004 and Cam to this day has been there to support us in our dream house.
- George and Kathy Andrew / Winding River Plantation
---
Cameron Smith built our house and we are very pleased with the result. He had the connections and ability to use various green building techniques that resulted in a very tight and energy efficient home. He used a spray foam insulation on all the exterior walls and the roof of the house. This added strength to the building and also sealed all places where any air, pollution, dust, etc... could leak into the house, thus providing a much tighter and healthier house, as well as being more energy efficient.
Also, solar hot water heating was installed, which has a quick pay-back and uses sustainable energy. Cameron arranged a solar panel generation system too. This uses solar panels on the roof to generate electricity which is sold back to the local electric company, reducing our monthly bills. It also generates solar credits which are sold as well and aide in making the pay-back faster. There are Federal tax credits for these installations.
Cameron and CL Smith Construction had the most experience of any other builder we found in these matters, and we are very happy with our new house and recommend his work highly.
Anyone who wishes may contact us directly for further information.
Peter Braun & Merry MacBarb / St James
---
We built our home with Cameron Smith 8 years ago. This house was CL Smith Construction Co.'s first Energy Star home. In the 8 years we have lived here our utility bills (gas and electric) have been approximately half of what our neighbors and friends of comparably sized homes have incurred. The added benefit has been the noise reduction both internally and externally.
Terry and Kathy Miller / St. James
---
"I researched green technologies extensively, but when it came time to building using green features, I wanted an experienced green builder. Cameron of CL Smith construction rose above the other builders. When I walked thru homes he built, I could see wall systems, insulation, geothermal HVAC, ERVs/HRVs, conditioned sealed crawspaces, etc. that employed features and technologies I had read about. Best of all, Cameron builds a beautiful home with careful attention to detail."
Matt and Patty O'Connell / St. James
---
It was essential for us to find a contractor whom we could trust to build our new home since we live in Pennsylvania. We interviewed several builders and were immediately impressed with Cameron's professionalism, customer service and approach to the building process. Cameron and his team helped us work through numerous plan revisions to find the home that is perfect for us and fit our budget. Cameron kept us informed throughout the entire permitting and construction process with frequent e-mails, phone calls, progress photos and schedule updates. The craftsmanship of the team and Cameron's attention to detail created a home that we're very proud of. We felt as though Cameron and Bill were our partners throughout the entire building process. We would recommend C.L. Smith Construction to anyone who is looking to build a quality custom home at a fair price with a team of craftsmen and professionals.
Jeff & Beth Klahre